Product placement is an advertising technique seen in various forms of media to promote products by a company helping sponsor and fund a project. The Goonies is no exception to the rule and has various examples of such.
List of brands promoted in The Goonies

[

edit

|

edit source

]

The candy bar offered by Chunk to Sloth while the two are locked up together is specifically a Baby Ruth.
A box of Dominoes Pizza is seen at the end of the film, being brought to Chunk by his mother. It is specifically his favorite pizza, as mentioned in this scene and in cut dialogue from the movie.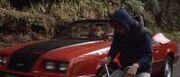 The convertible that Troy Perkins drives is specifically a 1983 Ford Mustang.
According to Mouth, one of Chunk's tall tales includes eating his "entire weight in Godfather's Pizza". The line initially used Straw Hat Pizza, but when the restaurant chain wouldn't allow the name to be in the film, the line had to be dubbed over in post.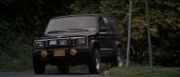 The ORV that the Fratellis drive is specifically a Jeep Cherokee XJ.
Mikey's marble bag is specifically shown to have a Marble King logo on it.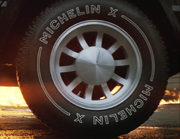 The Fratellis' ORV is shown to specifically have Michelin-brand tires.
All of the Goonies are seen wearing shoes and sneakers with the Nike "swoosh" on them.
Mouth is seen carrying and drinking from a can of Pepsi at the beginning of the movie; Brand also pulls out a can of Pepsi from his fridge. The soda container outside of the Lighthouse Lounge that Chunk checks is also specifically a Pepsi one.
Packs of Pepsi Free can be also be seen in the Stop 'N Snack deleted scene.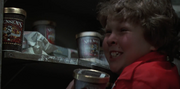 The brand of ice cream kept in the Lighthouse Lounge freezer is Swensen's. Flavors Chunk exclaims about include Pralines n' Cream, Mississippi Mud, Chocolate Eruption and its "Super Duper" variation, Apple, Grape, and Rocky Road.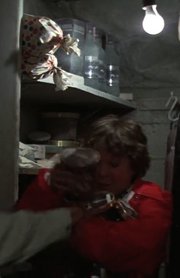 Two inconspicuous packs of Wonder Bread are kept in the Lighthouse Lounge freezer; while the logo is not shown, the distinct polka-dot packaging is plain to see.
In the Stop 'N Snack deleted scene, numerous other brands are seen in the store. This includes Fun Dip, Boudoir, and RC Cola.
Community content is available under
CC-BY-SA
unless otherwise noted.